Producer, Cameraman, Editor, Director, Voice-Over, Commentator, Journalist, Photographer

Full Sony HD XDCam kit, matt box, filters, sound, lights, blue screen, laptop edit...
Documentary Director (BBC, Discovery, RTE, Canal+ etc)
Series Producer, 6 years, Watersports World
- Sky Sports, Foxsports, ESPN-Star, 1 hour per week
- Home Reach 200 million, Sky's longest running sports show
Live Producer/Programme Director, America's Cup
Live Producer/Programme Director, Volvo Ocean Race
Live Commentator, Star Sailors League
Broadcast Editor (10 years)
Print journalist/magazine editor (12 years)
Yachtmaster (65,000 miles, including 11 Fastnets, 4 transatlantics, 1 Southern Ocean)


Broadcasting Highlights
EVS Producer/Highlights Editor - SailGP, 2022-present
Camera - Olympics Tokyo, 2021
Camera - World Sailing Championships, 2018
Live Producer - Volvo Ocean Race, 2017-18
Commentator - Star Sailors League, 2013-17
Camera/Producer/Voice - Antigua Sailing Week, 2011-17
Camera/Editor - Longines Global Champions Tour/CNN Winning Post - Mexico, Miami, Germany, Dublin, Paris, Cascais, CNN/S&V, 2016-17
Camera - Vendee Globe, World Sailing Show, S&V, 2017
Camera/Editor - Olympic Classes Regatta, Miami, S&V, 2017
Producer/Camera - Yachting Journalists' Awards, London, 2017
Editor - Olympic Classes Regatta, Melbourne, 2016
On-water Producer/Spotter - Rio Olympics, 2016
Producer/Camera/Editor - Topper Worlds, 2016
Camera/Editor/Producer - Tour de France, Diam 24, S&V, 2016
Camera - Oman Sail MOD70 Round Ireland Race, S&V, 2016
Producer - Paralympic Sailing Worlds, World Sailing, 2016
Producer/Camera - Sail Arabia The Tour, 2014-16
Producer - Miami Olympic Classes Regatta, S&V, 2016
Camera - Key West, CNN, 2016
Producer/Camera - Spindrift finish, CNN, 2016
Producer/Camera - Laser Radial Worlds, Oman, 2015
Highlights Programme Director, America's Cup World Series, 2015
Programme Director - Volvo Ocean Race Weekly Series, 2015
News/Features Camera - ISAF Sailing Worlds, Santander, 2014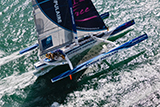 Director/Camera/Editor - World Kids Golf Championship, Portugal, 2014
Features Director - America's Cup TV, San Francisco, 2013
Director/Camera - America's Cup Uncovered - 30 mins weekly show, Channel 4 etc - S&V, 2011-2013
Director/Camera - Geoff Holt Atlantic, BBC, 2009-10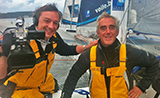 Camera (DoP) - Floating Kitchen - 11 x 30 mins, Discovery Channel, 2007
Camera - Nothe Sailing site - Weymouth Olympics, 2012
Highlights Producer - Perth ISAF Sailing Worlds - Sunset+Vine/APP, 2011 - 16 x 30 mins highlights shows
Onboard Camera - Banque Populaire V, Fastnet, new outright record - IMG, 2011
Live Director - Audi Med Cup - Sunset+Vine/APP, 2010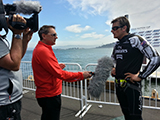 Director - Barcelona World Race - Sunset+Vine/APP, 2010-11
- 6 x 30 mins documentaries
Director/Camera - Madstreak - documentary film - Sundance Film Festival
Live Producer, World Gallery – America's Cup 2007 - IMG
On-Water Director - America's Cup 2010 - IMG
Producer/Camera - World Match Racing Tour - Red Handed TV
Producer/Camera - 16ft Cat Solo Ireland - Discovery Channel
News Producer - Route du Rhum - CNN, 2010
Post Producer/Director - Mainsail - CNN, 2010
Work examples
Live Producer - Volvo Ocean Race 2017-18
Proucing over 200 Daily Shows, daily news updates plus live arrivals - some 4,500 minutes of airtime...

Programme Director - Volvo Ocean Race Series, 2015
Took over from the Series Producer for the final eight shows of the weekly broadcast half hour series "Life at the Extreme". Cool story towards the business end of the race. A joy to work with two outstanding editors, Jordi Esgleas and Chris Polding.
Features Director - America's Cup Host Broadcast, San Francisco 2013
Handled a few roles on this job over three months: made technical features to help explain a new class of foiling cats powered by wingsails, interviewed the principles for character stories, and analysed the racing in the TV gallery for the Half Time Show during the live broadcast. It was an astonishing story. Worked hard. Proud to be part of the 100-strong crew.
Director/Cameraman - BBC Geoff Holt Atlantic, 2009-10
Another outstanding story, with amazing principle characters. I had to live this one with Geoff and his carer Susana, sailing across the Atlantic with them filming for BBC World News. It was a positive story over the Christmas of 2009 and New Year of 2010. BBC Worldwide came to us at sea live via satellite six times to a global audience. I also fed back several video news packages, hooked Geoff into 22 BBC Radio ISDN interviews, and then made a 30-minute documentary for the BBC.
Cameraman - Fastnet Record onboard Banque Populaire, 2011
My ninth Fastnet and a phenomenal experienced aboard the biggest and fastest trimaran in the world. Filmed onboard for IMG's Spirit of Yachting, distributed through BBC Worldwide, and packaged French interviews for Eurosport. This race record, and course record, still stands.
Cameraman - Straight News Shooting
Broadcast news shooting/GVs...
Voice-Over, Writer, Cameraman etc - Antigua Sailing Week 2011-17
Love sailing and filming on a different boat each day and coming up with these stories with a sweet team in Antigua. Pure heaven!
Director - Barcelona World Race 6 xs 30 mins documentaries, 2010
The story goal here was to explain the second edition of this tough, two-handed non-stop round the world race, still relatively unknown, and to hook into the strong characters. This clip is a condensed version of episode 1, courtesy of Sunset & Vine/APP and the organisers, FNOB. The series was translated into several languages and broadcast widely.
Camera/Producer - BBC Children's Newsround - 2014
A news story to inspire young female sailors. Nice job Frances and Dee!
Recent Magazine Features/Photos
Qantas, The Australian Way, Australia
Yachting World, UK
Yachting Monthly, UK
Practical Boat Owner, UK
Yacht, Germany
Pacific Yachting, USA
Afloat, Ireland
Kazi, Japan
Yachts & Yachting, UK
Club Marine, Australia
SA Yachting, South Africa
Nautica, Croatia
Yacht, Czech Republic